The Tennessee Walking Horse is the most willing and gentle of horses and will give you the smoothest ride of any breed. It is becoming the mount of choice for endurance riding, mountain packing, dressage, calf-roping, parading, jumping, trail riding, therapy programs, and mounted patrol units - truly a horse to serve many purposes.
Early on the breed was utilized extensively as a saddle horse, a tough utility horse that could provide the smoothest ride of any breed - ideal for long days in the saddle riding the plantation or along rural roads. Later the Tennessee Walking Horse gained fame in the show ring.
Their square four-beat gait with a gliding motion is their most prominent characteristic. This gait is inherited and cannot be taught to a horse who does not possess it naturally.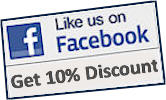 Besides an affectionate and calm disposition and the extremely level comfortable ride this breed has an innate intelligence, is very versatile, and loyal.
Popular Trail, Pleasure and Show Horse
Fayebrook Farms recommends the Tennessee Walking horse for its temperament and its gait. For a novice this horse is easy to handle making the experience more enjoyable and certainly safer. For individuals with physical limitations from disability or injury the smooth ride is preferable to the jarring gaits of other breeds and definitely offers more security. Riders on Tennessee Walkers require less exertion to enjoy equine activities.
Great Foundation Breeding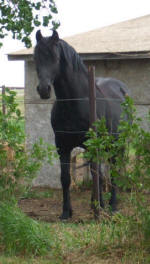 The Tennessee Walking Horse Stallions at Fayebrook Farms come from significant foundation breeding. Their lineage can be traced to the black stallion Allan F-1 the Grande Sire of the Tennessee Walking Horse Breed. We maintain strict breeding principles to ensure the continuation of this championship line.
Royal Dictator (shown right) is the pride of our farm. He has great bone and wonderful conformation. He has a superb disposition and a natural running walk which he passes on to his offspring.