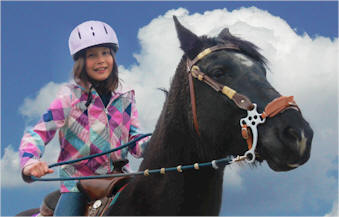 We cater to riders of all ages and abilities - children or adults. Previous experience is not necessary. You can experience being on horseback in a relaxed, safe supervised environment on a well trained gaited horse (read more about gaits).
We use Tennessee Walking Horses because they possess an affectionate, calm disposition and also provide an extremely level comfortable ride. For the very young or nervous beginner we also use miniature horses to initiate the new rider to the fundamentals of equine behaviour.
Learn the Basics or Improve Your Horse Riding Skills
You'll learn the basics from mounting to riding, and you will advance at your own pace depending on what your personal goals are. So why not give it a try! Lessons take place during the day, after school.
All Ages of Rider Are Welcome
Riding lessons are conducted in western riding instruction. Each lessons is usually an hour in length. When circumstances dictate a shorter period of time we can arrange half-hour lessons. New riders begin lessons in the round pan before moving into the riding arena. Besides proper care and handling of the horse we work on proper hand and leg direction as well as proper seat to develop good riding habits first and also ensure the most safe and comfortable ride. Upon completion new riders may finishing with a trail ride. New riders are always accompanied by experienced riding instructors. Trail rides may include a group of graduating riders.
Riding Lessons are:
One hour in length - $35 per hour

Monday to Saturday 10 am – 5 pm

Monday evenings 7 pm – 9 pm

May 1 – September 30, 2015

Lessons may be rescheduled on inclement days
Call us to check times and availability
All sessions must be booked in advance
Learn and become involved with all aspects of caring for a horse
FayeBrook Farms Favourite - Gorgeous George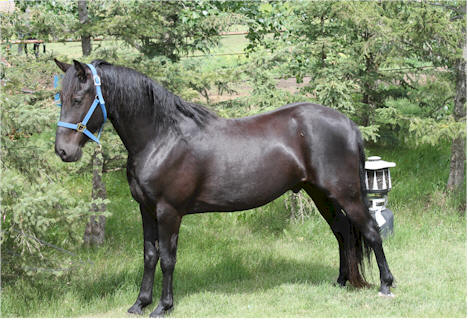 Dictator's Gorgeous George is one of the favourite at Fayebrook Farms. He is very quiet and willing and extraordinarily careful with young riders. Georgie has been particularly useful in equine assisted healing programs as well as riding lessons. He looks after his rider and hasn't any bad habits.
Please Note:
If you book a riding lesson and wish to cancel we require advance notice. If you fail to notify us you will have to pay for this lesson before you may book another lesson with our establishment. Thank you for your understanding of this policy. This rule ensures efficient scheduling and avoids disappointment due to the high level of interest.