Famous TENNESSEE WALKING HORSES
Allan F-1- Greatest contribution to the breed
Ultra's Major Threat - Enviable performances and presence
JFK - Dominant Show Horse of the 1990's
Midnight Sun - Horse of the Century
Merry Go Boy - Greatest show horse of all time
GLLís Carbon Copy - Perfect model for breed in looks and manners
Triple Threat -the Reserve Champion Stallion and Reserve Grand Championship
The Pusher - Earned highest awards offered by the Walking Horse industry
Ebony Masterpiece - founded a dynasty of champions
Prides Generator - Sire of the Year seven straight years
---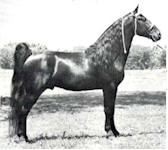 He was the first stallion to become world champion of his kind, in 1945 and 1946 at the Tennessee Walking Horse National Celebration at Shelbyville, Tennessee. He sired Grand Champions seven times; grand-sired World Grand Champions five times; and was the great-grandsire of nearly every year's Champion since that time. On only four occasions since 1949, have horses not descended from Midnight Sun, been world champions of this breed. He was named "The Horse Of The Century" and remains the most prolific sire of the breed to date.
---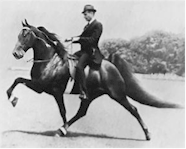 Sunís Delight was one of the most popular World Grand Champions of all time, and was considered the perfect model for the breed in looks, manners and action. Since he was retired in 1963, the name of Sunís Delight D. has appeared in the pedigrees of many many world champions, and on those of six World Grand Champions - 1973 W. G. Ch. Delight Bumin Around; 1984 W. G. Ch. Delight of Pride; 1987 W. G. Ch. Coinís Hard Cash; 1988 W. G. Ch. Docís High Tribute; 1995 W. G. Ch. Prideís Sundance Star; and 1997 W. G. Ch. Generatorís Santana.
---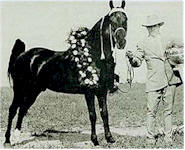 Merry Go Boy, sired by Merry Boy, was called the greatest show horse of all time. He won the World Grand Champion in 1947, and again in 1948. He has the distinction of being the first World Grand Champion to be trained with action devices. He sired Go Boy's Shadow, 1955-56 World Grand Champion, and Go Boy's Sundust, 1967 World Grand Champion and Go Boy's Royal Heir, 1968 World Grand Champion.
---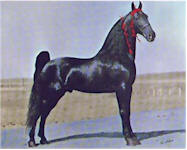 Mack K's Handshaker, TWHBEA #561320, was World Grand Champion in 1960. He was by Midnight Mack K. and out of Deep Purple, a granddaughter of Last Chance. "Handshaker" got his name from his habit of striking out with his front legs. He sired 1,362 foals.
---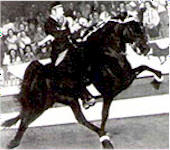 GLLís Carbon Copy was sired by the 1959 World Grand Champion, Rodgersí Perfection, and was out of Midnight Doll, a daughter of Midnight Sun. Midnight Mack K., the sire of Rodgersí Perfection was also by Midnight Sun, giving Carbon Copy Grand Champion parentage on both sides of his pedigree. Carbon Copy was one of the most popular World Grand Champions of all time. This black stallion had, in addition to his beautiful conformation, the three distinct gaits of the true Walking horse. He was a perfect model for the breed in both looks and manners as well as in action. He sired two World Grand Champions - Shades of Carbon in 1976 and Mark of Carbon in 1978.
---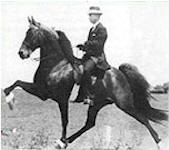 Triple Threat was another famous grandson of Midnight Sun. His dam was a daughter of Wartrace. In 1963, Triple Threat won the Reserve Champion Stallion and Reserve Grand Championship with Harold Kennedy up. He also won the Reserve Stallion and Reserve Grand Championship, under Harold Kennedy in 1964. He sired the 1979 World Grand Champion, Threatís Supreme A., and grand-sired many World Champions as well.
---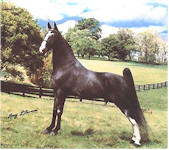 Sire of the Pushover, and a dynasty of World Champion foals. The Pusher will leave a lasting mark on the gene pool of the Walking Horse breed. With his style and performance, his conformation and disposition, The Pusher earned the highest awards offered by the Walking Horse industry. On Tuesday, October 2, 2001, The Pusher C. G. was laid to rest. After consulting with Dr. John Bennett, it was decided that the 29 year old stallion would humanely put down with the same class and dignity he carried throughout his entire career.
---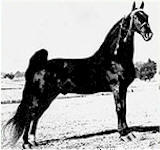 One of the most famous grandsons of Midnight Sun and Merry Boy, Ebony Masterpiece also founded a dynasty of World Champion offspring. Ebony Masterpiece was retired to stud following his 1962 win and sired many many champion foals, including Ebonyís Senator, 1969 World Grand Champion. 1998 W G Ch. Masquerading and 1999 W G Ch. RPM, being the latest to carry the illustrious name of Ebony Masterpiece on their pedigrees.
---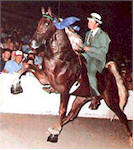 The premier son of Pride of Midnight, he was Two-Year Old, Three-Year Old, and Four-Year-Old World Champion. Voted TWHBEA's #1 Sire of the Year in percentage points and total points for seven straight years, Prides Generator was one of the most prolific sires of the breed. There are 2,303 foals registered to him in the TWHBEA Ipeds, to date