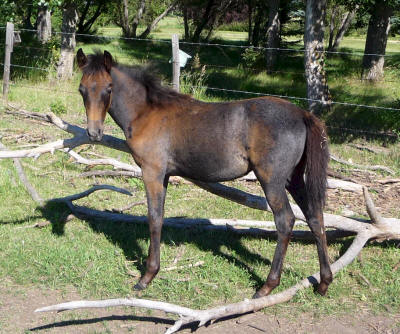 Royal Mayflower
Diesel's Hot and Spicy
Diesel's Sacred Willow
The Tennuvian breed is the result of crossing the Tennessee Walking Horses with the Peruvian Pasos. Its name was coined in the latter quarter of the 20th Century and it registry became official in 1991.
The Tennuvian typically inherits the good feet of the Walking Horse and the smaller stature and more refined head of the classic Peruvian Paso. They are noted for a significantly smoother gait, long stride and endurance on the trail. The founder of the Tennuvian Registry refers to their gait as a "soft prance".
This breed is cooperative, eager to please, mellow and intelligent, good for work or riding. As a rule the Tennuvian normally stands between 14 and 16 hands high at the withers. It has big expressive eyes, small muzzle, large nostrils, short curved ears, arched neck and compact body with a tail that is high set. Tennuvians come in a variety of colors.
Our first Tennuvian baby was born in 2011. We call her Royal Mayflower. She is fantastic out of Luna Relucienta and Royal Dictator. We have included photos of her birth as well as her first steps on this website. The newest Tennuvians to Fayebrook are Diesel's Hot and Spicy and Diesel's Sacred Willow, beautiful offspring of the courageous and superbly spirited Luna Relucienta and the conformationally flawless and striking Dictator's Diesel.