about Peruvian Paso Horses
Fayebrook Farms adheres to maintaining the purity of this magnificent breed. Our Peruvian Paso stallions and mares were selected not only for their ancestral lineage and championship breeding, but because their brio and termino were so compelling. They present all the desired characteristics of the champion Peruvian Pasos they descend from.
On this Page:

History of the Peruvian Paso
Foundation Bloodlines
Famous Horses from This Renowned Bloodline
Termino and Brio
History of the Peruvian Paso
The Peruvian people protected this breed from outside influence for many years and have only allowed the horses out of the country for about 100 years. Because of its isolation for over 400 years, the Peruvian Paso horse has evolved as one of the purest breeds in the world and as a unique entity in the horse kingdom. The trademark of this breed is a special, inherited, and completely natural ... from an article written by Eduard van Brunschot Vega. Read More
---
Our Peruvian Pasos are heirs of terrific foundation stock, renowned bloodlines recorded in Peruvian Paso history. The celebrity of some of the greatest stallions continues to endure for Limeno Viejo, Limenito, Oro Negro, Elegante, Piloto, Sol de Oro V, Fina Estampa, and Soberano as decade after decade their heirs record repeated and continued brilliance and wins in the show ring both in both North and South America. La Zapata became one of the most renowned broodmares of the twentieth century, for she gave birth to the most important modern foundation stallion in Northern Peru, Limeņito.
These foundation bloodlines produced extraordinary offspring and the succeeding generations produced by those offspring have continued to triumph. These successes have brought fame to Peruvian Paso breeders and owners.

Learn More about this extraordinary bloodline.
---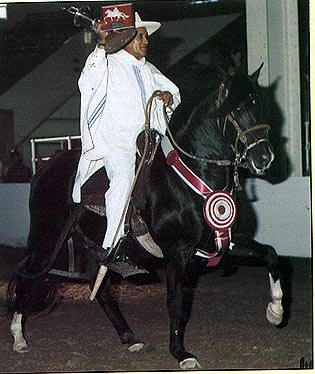 Famous Pasos from this Renowned Bloodline

La Zapata - the most famous blood mare - a young man took deadly aim and mistakenly shot a visiting horse that he thought was an intruder. A fine filly was selected to compensate for this loss a the rest is history. Read More

Limeņito - Crossing La Zapata with Limeņo Viejo, who reportedly came from the Pisco Valley in Southern Peru Torre Ugarte produced the great Limeņito.

Sol de Oro - considered by many to be the greatest Peruvian Paso sire of all time. Southern Peru's Sol de Oro might well have lived out his life as a crippled scrub horse in the mountains of southern Peru had it not been for a man by the name of Gustavo de la Borda who recognized his greatness.

Piloto - the legendary stallion - his name is prominent in the bloodlines of almost every US National Champion horse since 1973." Here's more

Soberano - One of the Great Stallions - mesmerized the judges and spectators alike - a great champion that had an impressive record of wins in the show ring in both the United States and Canada. He displayed an incredible and reliable gait that More
---

The Paso's Distinguishing Termino and Brio
What distinguishes the Peruvian Paso is its "Termino" and "Brio". Termino is it's unique gait and Brio is the qualities of boldness, exuberance and astute focus in service to the rider, their sense of being on parade, their controlled energy, their willingness to please the rider. More
---
Our Peruvian Pasos
Fayebrook Farms adheres to maintaining the purity of this magnificent breed. Our Peruvian Paso stallions and mares were selected not only for their ancestral lineage and championship breeding...we have obtained offspring that present all the desired characteristics of the champion Peruvian Pasos they descend from and reveal temperaments ideal for show, trail, and breeding. More
---