SOBERANO - famous Peruvian Paso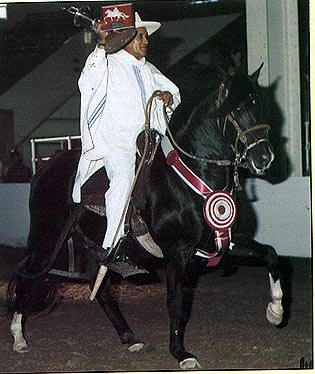 Soberano was a great champion that had an impressive record of wins in the show ring in both the United States and Canada. He displayed an incredible and reliable gait that mesmerized the judges and spectators alike. He was one of the most titled horses in North America before retiring from the ring at age of fifteen.
This great stallion produced offspring that inherited his gait, spirit and intelligence. Those Peruvian Paso dominant strengths of brio and termino that made Soberano a champion also brought his progeny significant wins in the ring as well.
Soberano's sire, Piloto, was well known in Peru before coming to the USA at 15 years of age. Piloto became a primary breeding stallion . Other ancestors include La Zapata, Limeno Viejo, Limeņito, Sol De Oro V.
Soberano's Career Wins 1980-1993
1980 Canadian Nationals: Calgary, AB
1st - Colts Of 1979, Halter
Canadian National Reserve Champion Jr. Stallion
1981 Canadian Nationals: Calgary, AB
1st - Colts Of 1979, Halter
1st - Produce Of Dam (For *Soberana De Cayalti)
1st - Get Of Sire (For *Piloto)
Judge's Award - Best Gaited Horse Of Show (First Time Ever Awarded In North America, & The Only Time To A Halter Horse)

1982 Canadian Nationals: Calgary, AB
1st - Colts Of 1979 - Halter
1st - Stallions Of 1978 & 79 - Bozal
1st - Produce Of Dam (For *Soberana De Cayalti)
2nd - Merito Zootecnico Stallions 3 & Over
Canadian National Champion Jr. Stallion

1982 U.S. National Championship Show: Dallas, Tx
2nd - Stallions 3 & 4 In Bozal (Class Of Ten) 1983 Canadian Nationals: Calgary, AB
1st - Stallions 4 & Over, Bit
1st - Stallions 4 & Over, Gait
Canadian National Champion Stallion - Breeding
Canadian National Champion Of Champions Stallion - Breeding

1983 U.S. National Championship Show: San Francisco, Ca
3rd - Open Gait (Mares, Stallions & Geldings, 33 Entries) 1984 Canadian Nationals: Calgary, AB
1st - Stallions & Over, Gait
Judge's Award - Best Gaited Horse Of Show
Canadian National Champion Of Champions Stallion - Breeding
Ambassador Award (Best Of Show)

1984 Northwest Regional Show: Olympia, Wa
1st - Stallions 4 & Over, Halter
1st - Stallions 4 & Over, Gait
1st - Stallions 4 & Over, Bit
Northwest Regional Champion Stallion - Breeding
Northwest Regional Champion Of Champions Stallion - Breeding
Northwest Best Gaited Horse Of Show

1984 U.S. National Championship Show: Denver, Co
2nd - Stallions 4 & Over, Bit
1st - Stallions 4 & Over, Gait
U.S. National Reserve Champion Stallion - Breeding
U.S. National Best Gaited Horse Of Show
1984 Harry Bennett High Point Gait Horse

1985 Canadian Nationals: Edmonton, AB
1st - Stallions 4 & Over, Gait
Canadian National Champion Of Champions Stallion - Breeding
Canadian National Best Gaited Horse Of Show
Laureado In The Breeding Division

1986 Alberta Provincial Show: Red Deer, AB
1st - Stallions 4 & Over, Bit
1st - Open Gait
Alberta Provincial Champion Stallion

1987 Alberta Provincial Show: Hobema, AB
1st - Stallions 4 & Over, Bit
1st - Stallions 4 & Over, Gait
Alberta Provincial Champion Stallion
Alberta Provincial Best Gaited Horse Of Show
1987 Canadian Nationals: Edmonton, AB
1st - Stallions 4 & Over, Pleasure
1st - Amateur Owner To Ride, Pleasure
Canadian National Champion Stallion - Pleasure
Canadian National Champion Of Champions Stallion - Pleasure

1988 Canadian Nationals: Calgary, AB
1st - Stallions 4 & Over, Gait
Canadian National Champion Of Champions Stallion - Pleasure
Canadian National Best Gaited Horse Of Show

1990 Canadian Nationals: Armstrong, B.C.
Canadian National Champion Of Champions Stallion - Pleasure
Laureado In The Pleasure Division

1993 North American Invitational Show: Calgary, Alberta
1st - Stallions 12 & Over, In Bit
N.A. Invitational Best Senior Horse Of Show
---
More Famous Peruvian Pasos
More about the Peruvian Pasos
History
Bloodlines
Paso Llano, Termino and Brio
Our Pasos at Fayebrook Farms