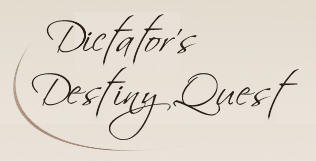 Dictator's Destiny Quest is one of those rare horses that comes along once in a life time. The old cowboys would have said he has heart, which means he has a willingness to please and will stop at nothing to accomplish what you ask of him.
Even after so many years and so many experiences training horses this horse has surprised us from the start. We expected him to react to the halter, but as soon as he figured it out he lead. We lifted his feet he let us trim them, blanket no problem, saddle no problem. On guard for him to buck, when we stepped in the saddle no problem. Sat on him, moved him around, still no adverse reactions. In our experience we had never seen anything quite like it, never one over the years with such willingness.
Destiny is going to be a big horse. At two years old he already stands 16 hh plus. He is truly a gentle giant.
This beautiful gelding's pedigree features some of the best foundation bloodlines around! His dam is a direct daughter of William's Kodiak and his sire is a grandson of Mack K's Hanshaker /Merry Go Boy. His dam goes back to King Pin, Williams King, and Williams Kodiak. All these foundation horses have produced beauty gait and size along with excellent dispositions.