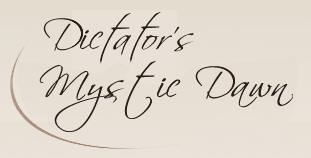 Born the summer of 2009 Dictator's Mystic Dawn is a bright little filly from Fayebrook's Royal Dictator and Kodiak's Mystic Quest.
Dictator's Mystic Dawn is a very non assuming horse, she is quite, gentle and brave. She has a very soft demeanour, is beautifully lit up and would definitely stand out in a show ring.
We can not say enough about the combination between Royal Dictator and Kodiak's Mystic Quest, Dawn's sire and dam. They have it all - breeding, gait, personality and a willingness that is unsurpassed.
Dawn's pedigree features some of the best foundation bloodlines around! Her sire is Mack K's Hanshaker /Merry Go Boy grandson great foundation horses. Her dam is a direct daughter of William's Kodiak and goes back to King Pin, Williams King, and Williams Kodiak. King Pin was the Montana/Colorado state champion and placed second in the National Versatility distance program TWHBEA. King Pin and Williams King both have produced jumpers.
All these great horses in Mysty's pedigree have produced beauty and consistent gait along with excellent dispositions. Our Mysty is evidence of those fine qualities - and is now sold.