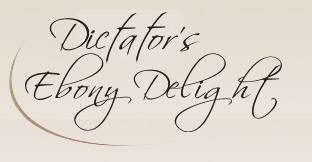 Dictator's Ebony Delight (Ebony) was our first born this year. From the very beginning he has certainly made his presence known. He is a social butterfly visiting with everyone, frequent visits to bug the yearling fillies, social calls among the unbred mares, time spent with his dad, Royal Dictator, and every now and then he spends time with his mother. When not visiting he runs around the pasture at full speed from one side to the other. If ever we were looking for him we'd find him where ever his mother was not.

Ebony has True Character that Shines
Through in His Every Move
With each succeeding birth at Fayebrook, Ebony became excited with the prospect of each playmate. He would not leave the mares alone trying to get close to his sisters as soon as they were born. Two of our mares, Mysty and Lady had their hands full trying to keep him away from their new born babies. He is persistent. Now if we want to find Ebony we look for Mysty. Her baby Dawn will be close by and following them is Ebony. Once in awhile he gets Dawn away from her mom so they can run and play.